How to Participate
Take a picture using figures distributed by Good Smile Company that were released before the end of June 2022.

You can use anything from your smartphone camera to a full-fledged one! Take a picture of figure with the simple theme of picture that makes you smile!

A picture that makes you smile theme examples

Post your picture on Twitter with the campaign hashtag!

Use the hashtag

#SmileFigure

when posting your picture.
Applicable Social Media: Twitter
If an entrant posts multiple pictures featuring different figures and situations, each post will be an eligible entry for the prize drawing.

examples

Make sure to enter the hashtag correctly when posting.
Posts to social media services other than Twitter will not be counted.

Participants will be entered into a drawing to win a prize!

Prize winners cannot choose the prize they receive.
Be sure to follow the Good Smile Company English official account (@goodsmile_us) and ensure that you are able to receive DMs in your settings when posting your picture. We will contact you via DM in the event that you are selected as a prize winner.
If we cannot confirm that you are following our account at the time of the drawing, your entry will be disqualified.
If we cannot contact you via direct message, your entry may be disqualified.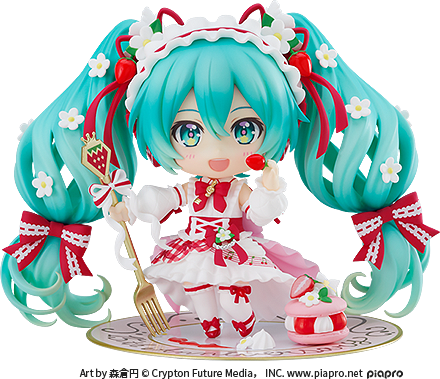 1

Winner

Nendoroid Hatsune Miku: 15th Anniversary Ver.
5 Winners

Illustrator Collaboration T-Shirt A

5 Winners

Illustrator Collaboration T-Shirt B

5 Winners

Illustrator Collaboration T-Shirt C

5 Winners

Illustrator Collaboration T-Shirt D

20 Winners

Smile Fest 2022 Face Towel
Entry Guidelines
Entry Period

24th June 2022 (Fri) at 17:00 JST - 7th August 2022 at 23:59 JST

Eligibility

The contest is open to all users able to use Twitter in their region.

Eligible Figures for Entry

Photos must make use of figures listed on the Good Smile Company website that have released before the end of June 2022. Check the GSC Website for Eligible Figures
Notes Regarding Entry
About Submitted Photos

Photos must feature products listed on the Good Smile Company official website that were released by the end of June 2022.
Please check the Good Smile Company official website to check for eligible figures.
You must obtain the permission of all person(s) that is/are in the photo prior to entry.
If minor(s) is/are in the photo, you must obtain the permission from her/his/their guardian(s).
Good Smile Company will not be liable for any issues that arise in the case that an entry infringes on the copyright, portrait right, etc. of a third party.
Collage photos that make use of multiple photos as a single entry will not be accepted. Please only enter the contest with single photos.
If you violate any of rules 1-6, we reserve the right to withdraw your entry at any time.

Regarding the Usage and Copyright of Entries

The copyright of photos entered into this contest is not passed over to Good Smile Company. All photos entered into the contest are assumed to be given permission to be used by Good Smile Company.
By submitting your photo, you agree that you have acquired the copyrights, portrait rights, etc. to the items (excluding Good Smile Company products) and likenesses included in your photo from the rights holder, and that you have the right to grant Good Smile Company a sublicense to use your photo for the purposes of entering this campaign and for the following uses.
Any disputes arising from submitted photos shall be resolved by the submitter, and Good Smile Company shall not be responsible in the event of any disputes. In addition, if Good Smile Company suffers any damages as a result of the use of the submitted photo, the submitter shall compensate Good Smile Company for such damage.

Usage Purposes:

Photos may be used on Good Smile Company advertising campaigns (television commercials, event materials, printed material such as newspapers, magazines, posters as well as online content such as our website, blog, etc.)
Photos may be posted on the Smile Fest 2022 website or printed and displayed on printed materials at the event venue.

Other Rules

If entries have previously been publicly uploaded online and judges determine it is difficult to verify that the entrant is the original author, your entry may be withdrawn from the contest.
If you believe one of the entries on our site violates the photo contest rules, please let us know at the following address: smilefest2022campaign@goodsmile.jp
Entries using someone else's name will be disqualified from the drawing.
Please be mindful of others when taking photos outdoors or in public areas.
In the event of any of the following, entry data will be edited or removed from the campaign without notice from the contest admins:

Entries that break the rules of the contest.
Entries that potentially depict offences to public order and/or morals.
Entry data that cannot be read/opened by standard methods.
Entry data that contains personal information.
Entries that could potentially infringe the rights of a third party in any way.
Entries that could potentially slander, or harm the image or privacy of a third party in any way.
Entries that are reported by a third party for infringement.
Any other infringement that the contest admins deem inappropriate for an entry.

By participating, you agree that you understand and agree to all of the above.
POP UP PARADE Survey
In commemoration of Smile Fest 2022, we will be conducting a survey to get your feedback on which characters you want to see join the POP UP PARADE series next!
Characters who receive a high amount of votes or characters that catch the eyes of GSC staff may be the next to join the POP UP PARADE series...!
Be sure to participate and make your voice heard!
Survey Period

Open from July 15, 2022 from 17:00 JST to August 22, 2022 at 17:00 JST

The survey has now closed.
Thank you to everyone who took part.
The responses will be considered while planning the future POP UP PARADE line-up.
Smile Fest 2022
Commemorative Twitter Icon Present
In commemoration of Smile Fest 2022, we're giving away icon frames for fans to use on social media!
Copying, reprinting, redistribution, etc. of the icons used is prohibited.
Giant Capsule Machine
How to Participate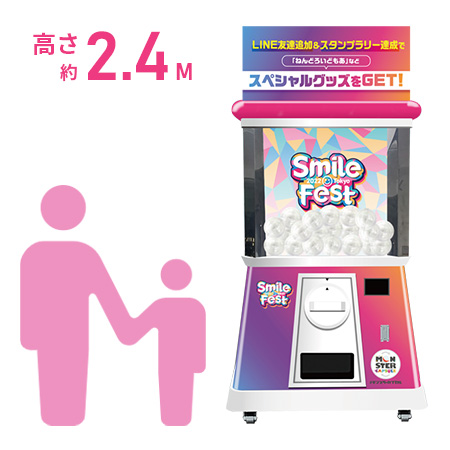 Add the Good Smile Company official LINE account as a friend to participate in the stamp rally!
Read the four different QR codes at the venue.
Show the completion screen to staff at the Giant Capsule Machine area!
Turn the lever to get Smile Fest original merch!
*Merch is limited each day.
Nendoroid Face Making Experience
Face plate printing demonstration & face plate present!
The pad printing machine from Good Smile Company's Lucky Factory in Kurayoshi, Tottori will be on display! This is the machine that is really used to print Nendoroid face plates!
Watch how facial expressions are printed on face plates!
Event-goers who answer our Smile Fest survey will be eligible to receive and original smiling face plate!
There is a limit to the amount of giveaway present face plates distributed each day.