Booth Info
Map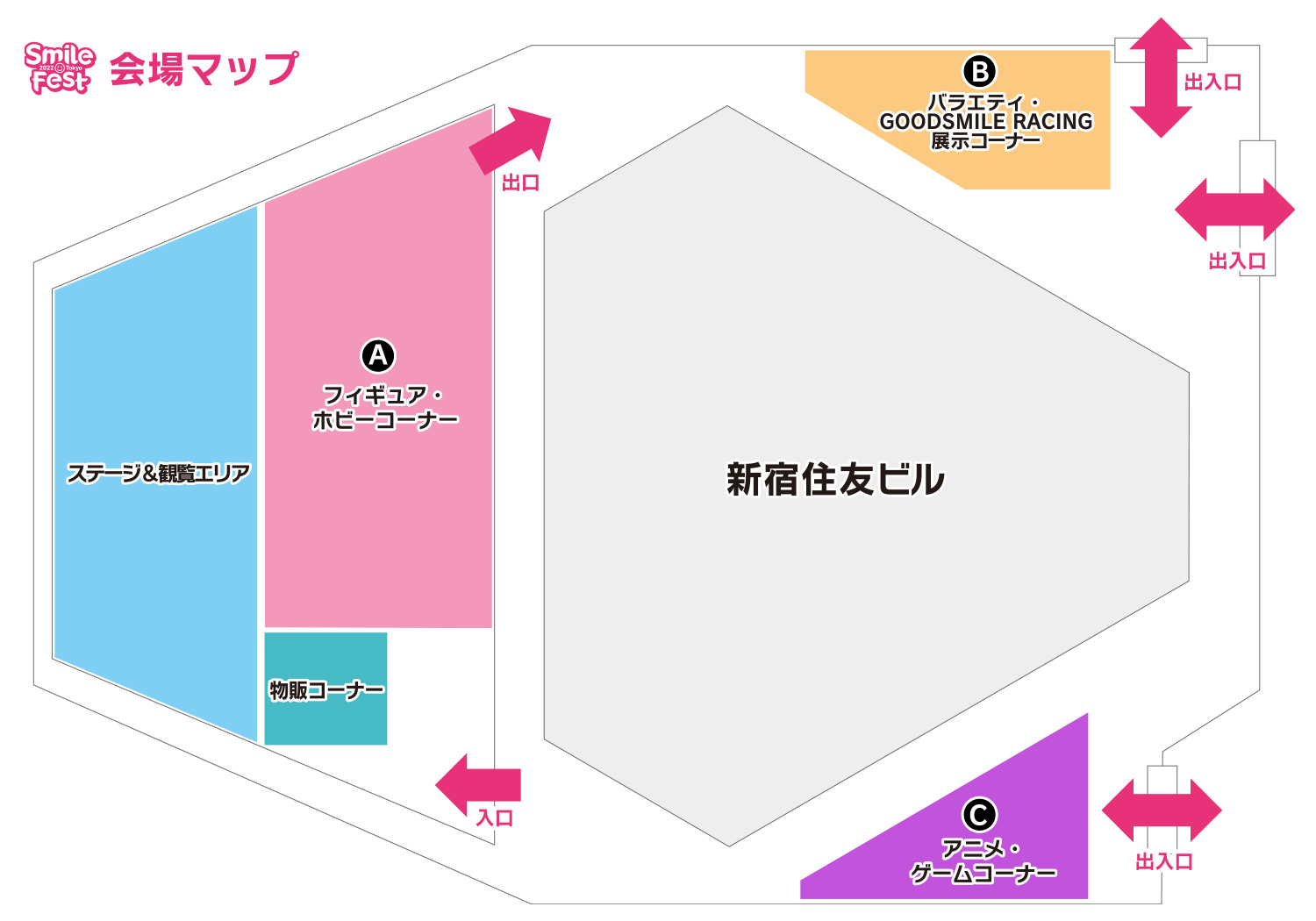 Click to view full-size images.
Figure/Hobby Corner
An exhibition of new figures from each brand/manufacturer!
Enjoy the different attractions and displays made for each brand exhibit!
Scale Figure

An exhibition of Good Smile Company and Max Factory's scale figures.
Enjoy taking a look at our latest scale figure innovations.

Nendoroid

An exhibition featuring Good Smile Company's flagship Nendoroid series.
Nendoroid #2000 and prior Nendoroids are set to be exhibited along with special image displays!

POP UP PARADE

An exhibition of the easy-to-collect POP UP PARADE series!
Enjoy our lively "PARADE" of figures!

Mecha Smile

An exhibition featuring Mecha Smile, the cutting-edge hobby brand that taking the industry by storm with an unprecedented lineup.
Fans of robots, mecha and action heroes will want to hang out here all day!

ORANGE ROUGE

An exhibition featuring ORANGE ROUGE, a brand specializing in male character figures.
You'll want to take your favs with you to take pictures at this exhibit! Enjoy the cute booth that also functions as a great photo spot!

Harmonia bloom /
Harmonia humming

An exhibition featuring Good Smile Company's Harmonia bloom and Harmonia humming doll brands. The bloom section will be themed after a flower garden, while the humming section will be themed after a candy factory.

figma

An exhibition featuring Max Factory's action figure brand figma.
Find out how figma figures are created and mass-produced!

PLAMAX

An exhibition featuring Max Factory's plastic model brand PLAMAX.
Take a look at the ever-expanding lineup and enjoy live talks about the joy of creating plastic models!
Image for illustrative purposes.
Feature Titles/Brands Corner
Hatsune Miku, hololive, Umamusume: Pretty Derby, Fate, Tsukihime, SPY x FAMILY, Demon Slayer: Kimetsu no Yaiba, HELLO! GOOD SMILE, SHOJO-HATSUDOKI, ACT MODE, chitocerium, Blythe and more titles and brands are set to have their own exhibition corners as well!
Anime/Game Corner
Check out our exhibition corner featuring anime and games from the Good Smile Group!
Smile of the Arsnotoria & Smile of the Arsnotoria the Animation

A joint booth featuring both the game and the anime! New figures from the series are set to be on display.
A tea party themed photo spot based on a certain room from the game will also be at the booth!

BLACK★★ROCK SHOOTER: DAWN FALL

New figures will be on display at the booth!

BLACK ROCK SHOOTER FRAGMENT

The Japanese version of the game is planned to be released in Autumn 2022, with the English version coming in early 2023! A trial of the smartphone game will be available to try at the booth!
Follow the official Twitter account and try the game at the booth to receive special merch!
*Merch distribution is limited.

RWBY: Ice Queendom

Broadcasting now on TOKYO MX! In addition to new figure displays and life-size standees, a photo spot will also be available at the booth!
GOODSMILE RACING Exhibition Corner
GOODSMILE RACING

GOODSMILE RACING & TeamUKYO was founded on the concept of a building a racing team that races with the fans. Since 2008, the team has raced in the Japanese SUPER GT GT300 class racing series.
SUPER GT 2022 Round 4 will be held at Fuji Speedway from August 6 to 7. The support of the fans is what drives the team forward. We thank you for your support!

The 2017 series championship-winning Good Smile Hatsune Miku AMG will be on display at the booth at Smile Fest.